Search Engine Optimization
93% of all business decisions begin with a search engine search. When search engines like your content, they make it easier for prospects to see your content.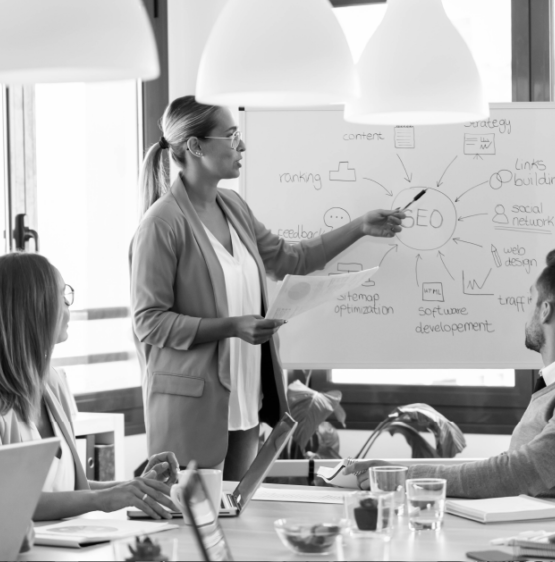 Search Engine Optimization (SEO) is all about helping search engines understand your site. It often involves modifying some parts of your website.
When launching a business site, you need to ensure the focus is on delivering the best user experience. SEO drives towards making the user experience better. When search engines like your content, they make it easier for prospects to see your content.
Why is SEO important?
93% of all business decisions begin with a search engine search. In today's digital age, the way people search for information has changed. People are now giving search engine queries like, "A restaurant near me". Google will answer back with a list of options.
Google has web pages it understands in the form of a list. When you query Google, it goes through the web pages available on the list to find the most suitable answers. Google will then present to you the most relevant information for your search.
Search engine optimization helps your customers find you online. To increase your rankings, our team uses some of the best tools available. We analyze and serve relevant content to your users, Google, and other search engines. This helps your business grow its authority online.
How Search Engines Understand Content
Search engines understand your content by crawling, indexing your web pages. Search engines can only do this if you allow them access to your web pages.
Google, for example, fetches a page, reads it, and stores it to the Google index. This is like an index in a library, it lists information about all the web pages that search engines know about.
The Google Search Console is where we analyze your website to see if Google is aware of it. Here, we can index individual URLs or URLs linked to the Google Search Console (GSC) page. To help the GSC know your site, we create a site map to upload to the Google Search Console to read.
Google uses a crawler/ Google bot to find or fetch pages from the web. This helps keep Google updated with any changes your website may experience. If it's a positive change, the Google algorithm recognizes it and pushes your site higher in the rankings.
It may happen that your site does not appear in search. This can be because of one or more of the following reasons:
Strategy
You cannot build a house without a blueprint or start a journey without a destination. Similarly, you can't do SEO without a plan. We work with you to define your digital marketing goals. This will lead us to develop an initial platform to start curating your SEO plan.
Site Audit
Going through your website gives us a better understanding of your current position. Using an extensive range of SEO tools, we will look for elements that provide the least and most benefit.
Competitive Analysis
Auditing your competitors is a proven way to distinguish your unique value offer. This also helps point out your business strengths and weakness in light of the industry.
Keyword Research
This critical phase involves an in-depth analysis of popular search terms. Help your customers find your website. The analysis, combined with useful insights will give us a clear picture of the site's health. Our team analyzes search volume, competition, and opportunity.
Mapping Optimization
Our SEO strategist will lay out your website optimization plan. We will then assign the right key phrases to the appropriate pages on your site. This crucial step ensures your customers find you when searching for solutions.
Implementation
Using the research and optimization map, our team applies on-page SEO. We keep track of all changes that we make, helping our team gauge the effectiveness of our plan.
Track Traffic & Rankings
We track site performance by analyzing metrics from Google Analytics and Search Console. These insights open up new opportunities or identify failures.
Refine SEO Plan
Studying the analytics data allows us to make necessary adjustments. Using site performance data, we update our SEO plan and continue to improve your site and optimize it. With this, we can solve to convert visitors into customers.
Content Creation
Our team develops unique content targeted to engage your customers. We create content in the form of blogs, e-books, pillar pages, landing pages, and articles.
Reporting & Refinement
We continue to track and report your site's performance. This includes checking your analytics data along with your site's health. This allows our team to stay on top of your site's positioning on search engines.
Local SEO
Local SEO optimizes content for optimal visibility on local search results. Understanding Google algorithm changes helps us optimize content for both your customers. Local SEO tools include:
Technical SEO
Technical SEO helps your website outperform your competitors. Search engines give high rankings for websites that offer relevant and structured content.
Great user experiences are an essential foundation for today's businesses. To ensure great user experiences. Technical SEO practices include:
Ecommerce SEO
Organic Google search accounts for 43% of all e-commerce traffic.
That's huge! Ecommerce SEO optimizes your website and uses products to attract leads. It gives your website visibility in the search engine results pages (SERPs).
It is all about showcasing your product to interested buyers.
Ecommerce SEO includes:
SEO Analytics
Understanding how users find your website helps attract the ideal customer. The Google Marketing Platform tools will give us some insights into user behavior. We will then study the data and amend our initial plan.
Our SEO Packages
Any combination of the services is great, but for the best results implement them all. This ensures that you have a well-rounded strategy with some of the best SEO tactics. Talk to us for a quick SEO audit.