Social Media Marketing
Grow your brand's reach, engagement, awareness, customer retention, and loyalty.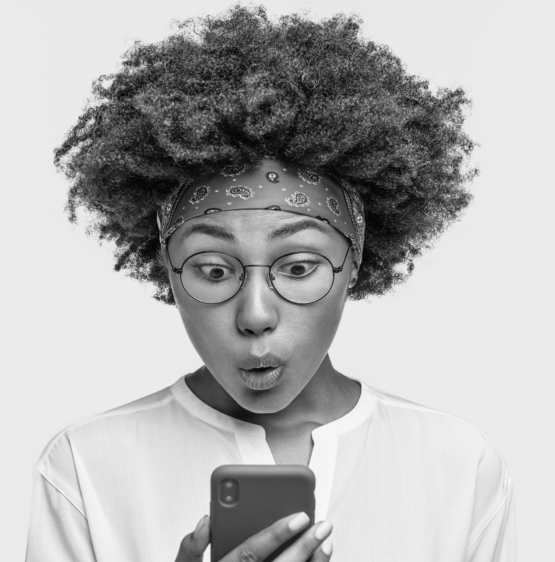 Social media helps businesses form unforgettable relationships with their followers. It creates an environment where brands thrive in social engagement and social proof.
Research shows that social media helps businesses build brand awareness, and attract buyers. It is the modern-day's most influential tool that businesses can use to connect with their audience.
Adding a social media strategy to your business is a way to expand your business marketing efforts.
A social media strategy helps your business engage with the right target audience. It increases the number of sales-qualified leads your business generates.
Attract
Targeting the right audience is crucial to your business success. For your social media strategy to be effective, you have to know who you want to attract. Knowing more about your customer will help you know how to find them.
This is why our strategy process hinges on researching your buyer persona. This research helps us understand who we are targeting, what job they would like to get done.
With this information, we address how your company is best positioned to make that job a success.
Engage
Your followers want you to engage them. They want to see posts that are recent and relevant to them. This is why we work with you in this process to ensure your brand is effective in engaging with them.
This way you build long-lasting relationships with your audience.
Grow
Keeping and growing an audience is challenging. No wonder there is an increase in social media outlets in recent times. There are a lot of moving parts, a regular change in algorithms, and restrictions on this ever-evolving space.
Because we continuously study these changes, we are able to keep your business up to date. We regularly amend and curate strategies that will work for you and your clients.
Social Media Marketing Services
First, we want to understand how you view success in social media. What are your goals? Do you want to grow the number of followers and likes? Or other forms of engagement? The comments you receive on every post?
Our team then brings together data, content, and design to build a relevant social media battle plan.
Social Media Strategy Development
To craft a winning social media strategy, we need to set SMART goals. SMART goals are simple, measurable, attainable, relevant, and timely.
With SMART goals, we will be able to align with your business objectives and be relevant to marketing objectives. That way we can measure success and that return on investment. Here is an extensive cover on SMART goals in this article " SMART goals by Fine Media.
Once that's done, we tailor solutions that suit your goals.
Buyer Persona Development
To reach the right audience at the right time, one needs to know your buyer persona. A buyer persona is a representation of your ideal customer. It's a picture you paint based on research and interviews with actual customers.
It goes beyond basic demographics. Buyer persona development helps you understand why your customers buy from you. Developing a buyer persona is crucial to strategy success.
Growing Reach
For an effective social media strategy, it is important to know where your customers are and at what time. This means knowing which social networks target customers are spending most of their time on and when the best time to reach them is.
Brand Engagement
We generate relevant and quality content and remain consistent with your audience engagement. We help you:
Tracking Meaningful Metrics
There are quite a number of metrics to track like the number of followers, and likes (Both post and page). Tracking the value of these metrics, however, proves to be difficult.
This is why we focus on metrics that matter. We track engagement, click-through rate, and conversion rates.
Social Listening and Competitor Research
Social listening is a great way to monitor your competition. We track keywords that produce positive results and those that don't. We can inform this way on our strategy to influence the performance of posts and ad campaigns.
Competitive Analysis
Understand what your competition is doing well and not doing so well. This research gives us good insight into what audiences respond to.
With this data, we can craft a strategy that answers the needs of your audience. When your customers succeed, you succeed too.
We manage your social media through advertising, post-management, scheduling, monitoring, and reporting. We use the data we collect to keep improving results.
Analysis and Reporting
With SMART goals set, there is a place where we can look back to reflect on our social media performance. This can update the approach and optimize our approach in the next period.
Grow your brand's reach, engagement, awareness, customer retention, and loyalty.
We would love to hear from you.